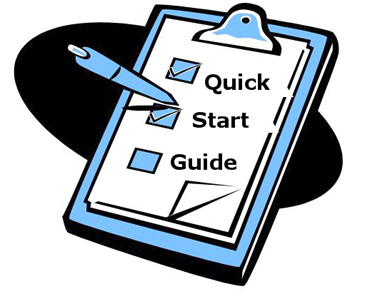 I understand you may be rearing to go, so if you are here is a quick version to get you started taking surveys ASAP.
Each step will be covered briefly but you will be able to read this guide and get right to it. Here we go!
Step 1 – Sign Up!
The first thing you have to do is sign up for some survey panels. You should also create an email account just for surveys.
Don't sign up for every panel you can find, some of them aren't worth your time. Be sure to only sign up for the best survey sites.
If you are in a hurry I suggest signing up for five or so and then signing up for more when you have time.
I have compiled a list of the best five to get you started. Once you have signed up successfully you should have some confirmation emails in your new inbox.
Step 2 – Organize Your Email
You definitely want to take a few minutes to organize your email. Set up some whitelists and filters so that things stay organized.
If you don't set these up you can be overwhelmed by the barrage of emails after a few days or so. By keeping everything separated you won't have to worry about missing your best survey invitations or other important emails from the panels.
I recommend whitelisting every panel you sign up for and creating a folder for each one too. If you don't know how to do this you can follow the walkthrough I wrote for you.
Step 3 – Filling Out Profiles
Once your email account is set up so that it organizes itself, you absolutely must fill out your profile for every panel you signed up for. A few things happen when you fill out your profile.
First of all, it lets the panels categorize you and send you surveys that will interest you. The best thing about filling out your profile is that it leads to high paying surveys.
By completing your profiles you will also protect yourself from fraud. If you don't fill out your profiles as soon as possible you may end up losing some time or worse, getting left out when invitations are sent.
Step 4 – Take Initial Surveys
Soon after joining any survey panel you will receive five to ten slightly boring invitations. You must complete these first five to ten surveys.
This shows the panel you are serious and then they will begin to send you invitations to better surveys.
Do your best with these first few. This is an easy way to show your ability to give the panels quality feedback.
Do not rush through these under any circumstances. This really sets the stage for invitations in the future, so establish your worth and let them know you're serious.
Step 5 – Take Better Surveys
The invitations to higher quality surveys aren't far behind the initial invitations that the panels send to everyone.
As soon as you start getting invited to higher paying surveys jump on them! Be sure to take your time and answer thoroughly, otherwise you may be kicked out for not paying attention.
As always, do your best when giving answers and feedback.
Step 6 – Collect Your Check!
Here's the part you've been waiting for! Once you have built up enough points or earnings, it's time to cash out. It's generally the same for all sites.
Some will pay you through PayPal; others will send you a check in the mail. Sometimes you will have an option but most people don't seem to mind either way.
No matter what it's money in your pocket that you didn't have before! All you have to do now is take more surveys and the money will keep coming.
Step 7 – Adjust Your Schedule
To keep making money with this gig you have to be consistent. Set up some email notifications on your smartphone if you can.
This is another way to keep up with your invitations. Be sure to check your email at least a few times a day. Set aside some time just for surveys. Be smart about it and you will do great.
Step 8 – Keep It Going
Try to stay under the radar if possible, especially if you want to maximize your earnings.
Don't take a hundred surveys on the same panel in one day. Split up your earnings between your favorite panels. If others in your household want to take surveys make sure that you don't sign up for the same panels.
That could get you both banned. Don't rush through your surveys and keep doing your best. The invitations will keep coming.
One Last Thing
You can make some nice side money taking surveys, you just have to be smart about it and use your time wisely.
There are more details that can help you increase your earnings, but the information in this article is just enough to get you going in the right direction.
Follow the steps here and you could be making money very soon! Remember, if you have any questions or you want to find out more details about something just look around the site. All of the answers you need are here.