Do you have a knack for making people feel comfortable talking to you? Are you constantly on your phone texting, or in chat rooms?
Need Easy Extra $250+/Month For Free?
If you spend a lot of your time texting and chatting already, then why not use those skills to make some extra money?
Or, you could even make enough money to quit your day job if you want.
Many companies may need a hand getting their community active in which case you can get paid to talk and text without flirting.
However, there are other chat sites where men are looking for someone to chat to. Some people work too much to have a real relationship.
To fill in the voids and feel connected, these people will pay for a good conversation from you. Of course, sometimes that entails some flirting.
Of course, this line of work isn't for everyone…
Is it for you?
Is Getting Paid to Flirt With Men Online For You?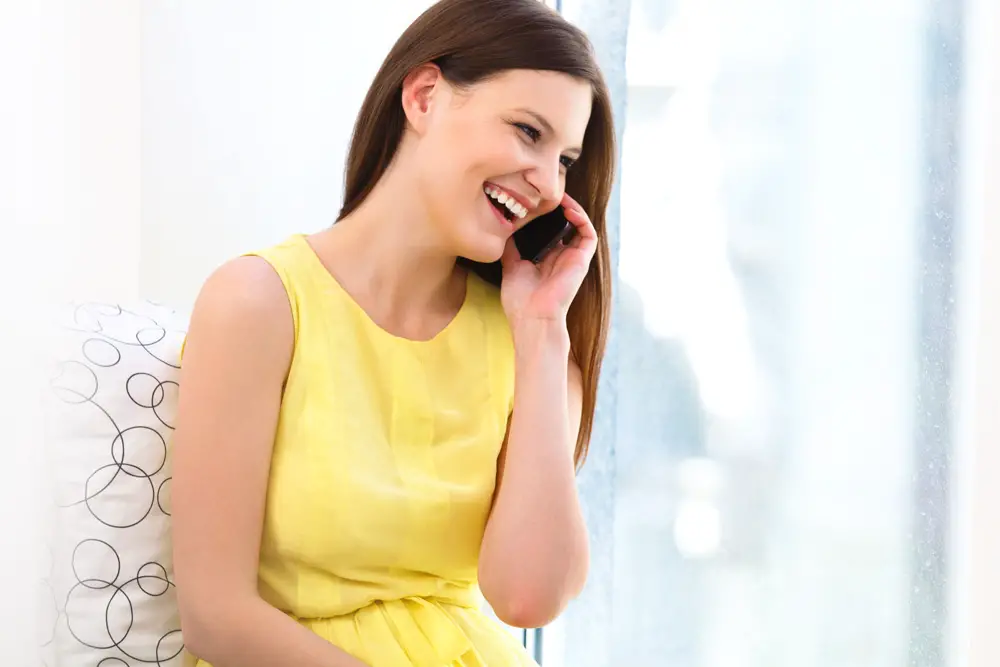 If you hate science, you probably wouldn't want to become a scientist. Likewise, if you hate talking to people, this probably won't be the job for you either.
The first thing you need to do when deciding you want to make money texting, talking, and flirting with men online is to figure out exactly what it entails.
Getting paid to chat is going to require some risky conversations, stress, and most importantly for you to set your boundaries, just like a real job.
Here are just a few things you will need to navigate before choosing this career path:
Some conversations may turn sexual very quickly.
Some clients may want you to video chat.
What you do is your own business and comfort level.
You will need to set your boundaries early in the conversation.
Some will want you to take your clothes off, touch yourself, or do other sexual acts. You have the right to end the conversation.
Being flirtatious is usually standard.
You must have a positive, friendly attitude.
You will need to be able to keep a conversation going.
You are not required to do anything you don't want to do.
This is a job and requires work regardless of how others perceive it.
If you don't know how you would handle some of the things above, you may want to spend some time texting and flirting with guys you already know.
It is important to ask yourself how you will feel if conversations get too sexual. You should also think about whether you would be willing to video chat.
Those who video chat tend to make more money, but that may not be your cup of tea. If you can't see yourself feeling comfortable in that type of situation, don't do it!
How far are you willing to go? Set your boundaries and make them clear from the get-go. Do not let anyone pressure you into doing something you are not comfortable with.
Get Paid to Text, Flirt with These Legit Companies
There are actually several online companies and chat rooms that will pay you to text, flirt, and chat with men online.
If you are ready to chat for money here are 7 companies that will hire you to chat, text, video chat, and phone chat!
#1 FlirtBucks
FlirtBucks is a chat hosting work from home job that is specifically for women over the age of 18. To make money with FlirtBucks, you must be very friendly with your clients.
You must be able to chat to clients about anything under the sun.
Want More Money?
Pinecone Research, a leading name in online survey panel honesty, absolutely guarantees $3 cash for every survey you complete!
Take advantage of their time limited New Membership drive and register NOW. Join today: 100% free!


How FlirtBucks Works
You are able to make money in two ways: through text or through a video call with a client. If you do a text chat, you earn 10 cents a minute, but you earn 12 cents a minute for video.
If you choose to stay with FlirtBucks for 6-months, you will begin earning more per minute. So you will get 12 cents for text and 15 cents for video.
That's about $7 per hour just to chat with someone via text. However, if you are up for the challenge, you can talk with multiple clients at a time making your earnings even higher.
To be a chat hostess for FlirtBucks, here are the requirements:
You must be over 18 years old
You must have your own personal computer or laptop with a webcam.
You will need high speed internet connection
You must be located in the United States, United Kingdom, or Australia
With FlirtBucks, they are paying you to chat, and it very clearly states they are not paying you to "perform." You do not have to do anything you do not want to do.
However, you are to always be kind and courteous to the client even when refusing to do a request.
#2 MyGirlfund
At MyGirlfund, you can let our your wild side while making extra cash. Whether you like it naughty or just suggestively playful, you get to set your own boundaries.
You can make as much or as little as you want with mygirlfund. Each time you send a message, you earn one credit. You get to choose how much time you spend interacting.
You also get to set your own rates. So, if you want to do a video chat, you can ask for $5, $20, or whatever you want before a client can see what's behind the screen.
Guys can even pay you privately if they choose to.
Many women have found that they actually make meaningful relationships on this platform. Many times, the guys on these sites have very little time for a real relationship.
Instead, they seek to have a virtual girlfriend that is available during their downtime. Don't sell yourself short.
#3 Chat Recruit
One of the reasons I like Chat Recruit is because you can choose the way you want to chat with a client. Instead of just webcam and text, there are 4 ways to make money:
Webcam Chat: To do a webcam chat you simply log on, choose your rates and make money chatting on a camera. You can work from a laptop, PC, phone, or tablet.
Phone Chat: With phone chat, you can make money flirtatiously talking or by giving psychic readings. Take calls on your landline or cell.
Messaging: You can get paid just to answer messages from your Chat Recruit inbox. You don't even have to keep a conversation going.
Be on TV: Another option you have is to be the face of daytime or night time shows on Chat Recruit's TV channels.
Chat Recruit pays its hosts either bi-monthly or monthly depending on what you prefer. You can work whenever you want just by logging in.
You earn for every minute you are chatting. You can earn $1.30 to $2 per minute depending on which type of chat you do. Remember, cam chats get paid more.
To become a host for Chat Recruit, register online, upload your documentation, create your profile, and start working.
It's that simple.
#4 Dream Lover
Dream Lover is another online chat website that pays people to chat and flirt. This company focuses on women being models as opposed to chat hosts.
They encourage their models to send and share photos and videos through their text messaging services.
This does not mean you have to share photos or videos. Like all other platforms, you are your own boss.
To apply to be a model for Dream Lover, you must be 18 years of age or older.
#5 Chat Operator Jobs
If you don't like webcam, live chats, or even phone calls, Chat Operator Jobs may be the perfect fit for you. All you have to do is text!
When working for this company, you are considered a sex chat operator. This means many of the texts could be sexual in nature.
However, this does not mean you have to send videos, pictures, or anything that makes you feel uncomfortable.
You will get paid 20 cents per message you send regardless of how long the message is. So by the time you send 100 messages, you will have made $20 bucks!
Get Money: Cash In!
Join Opinion Outpost, one of the few faithful and honest survey panels and earn cash and gift cards for your opinion. Stack your points and redeem them: Simple! No hidden fees and completely free!
Some people send that many texts in a 20-minute conversation. Chat Operator Jobs pays you weekly via Paypal.
Here are some requirements for the job:
You will be expected to partake in strong adult-oriented messages.
You must have proper grammar without using text to speak.
You must answer a minimum of 75 messages per week.
You must have Paypal to receive payment.
To become a sex chat operator, simply fill out a short form to apply.
#6 Phrendly
You won't make a living using Phrendly, but you can earn some extra cash just by talking to someone interesting.
Phrendly is a smartphone app that currently only works on iOS and Android or through their website. Instead of just making money, you gain relationships.
Basically if someone messages you first, you earn cash. If someone sends you a virtual "drink" worth $5, you get $5.
Keep in mind that many will send virtual drinks and money in hopes of getting a picture or a video. However, that is totally up to you.
#7 Text121 Chat
One of the best things about Text121 Chat is that you are fully trained to do this job. You will even continue to have ongoing workshops to help you master your career.
Chat operators work from home providing text messages in the area of clean SMS and MMS chat, Tarot, trivia, adult domination, BBW, and fetishes.
When you work here, you get paid about 7 cents per message. So, with a minimum requirement of 2,000 messages, you can make an extra $150 a week just by texting.
Potential candidates must have the following:
High-speed internet
Headphones to accept VOIP phone calls
A good imagination
Clear speaking abilities
Good communication skills
Positive attitude
Be friendly and courteous
In order to apply for Text121 Chat, you will need to send an email to [email protected] for an application pack. Be sure to send back all required information.
Once you have completed your application pack, you will need to allow 1-5 business days for someone to get back to you.
#8 Lip Service
Lip Service is a website where you can start your own online chat business and get clients through them.
You get paid to chat with men, but you must have the following to work for them:
A landline phone
A great personality that matches your voice
Be a resident of the United States or Canada
Keep your appointments
Be 18 years or older to apply
Have a working laptop or computer.
#9 Steemit
As the name suggests, conversations on Steemit can get a little steamy. However, their site claims many women are making up to $40,000 a year chatting with men.
Many of the men using Steemit are looking for a fun connection with a woman that fills a void as their lives are too busy to build a committed relationship.
Here are a few things to keep in mind if you are considering Steemit:
Keep your mind open as some chats can get steamy
Have a fun outgoing personality
You will need access to fast internet connection
You will need a smartphone, tablet, or computer.
[wps_conclusion-without-button title="Tips for Doing a Job Like This" style="card-success"]
This can be a tough job if you don't know what you are getting into. Here are a few tips to getting started in this line of business:
Set your boundaries. You know how far you are willing to go. Make your boundaries clear and upfront. Stick to them.
Be flirty. You don't have to be sexual to flirt with a guy. Give them compliments, try to get to know them, and send cute pictures.
Don't give personal information. These sites are created to keep you safe. Don't give anyone your personal phone number or information.
Take Geotagging off pictures. If you do send pictures, you don't want them to have your location, so make sure your geotagging is off.
Have fun with it. The more natural it feels, the easier it will be to flow with the conversation.
Stop it. If a conversation goes too far too fast, or you feel uncomfortable, never feel afraid to stop the conversation.
Working from home as a virtual model or girlfriend isn't always an easy task. Just remember, you set the limit of how far you want a conversation to go.
What do you think about being able to chat for money? Is it your cup of tea, or is it a little too risky?!
Share your thoughts, questions, and concerns in the comments below!
Similar Posts:
Get Money: Cash In!
Renowned Swagbucks delivers what you need: More rewards, more money! Watch videos, take surveys, shop and more to earn Extra Cash. 100% free to join!