Need Easy Extra $250+/Month For Free?
There is nothing worse than being invited to a great high paying survey and then getting screened out after working on it for ten minutes.
In fact, it's one of the biggest complaints members have about online surveys.
You're going to learn why this happens, how it works, and ways to avoid it as much as possible.
Being screened out can be very discouraging, so pay attention.
The more you learn, the better off you will be – and the more money you can make from your online survey participation!
Getting Screened Out: What Does It Mean?
If you haven't experienced this yet, let me give you a better idea of what it is and how frustrating it can be.
Pretend you have been invited to a survey that sounds like a lot of fun, it's something that really interests you, and it has some nice compensation attached.
Sounds great, right? It sure does.
So, you go to the site and begin the survey.
After a few minutes of basic questions that you always have to answer, you get a thank you message telling you that you didn't qualify to complete the survey.
What just happened?
You have been screened out. It's more commonly called "getting disqualified" from a survey.
Something you did or said caused you to be screened out.
This isn't always in your control, though, as you will see soon.
However, that doesn't make it any less frustrating because you're essentially spending your time answering questions only not to be able to take the full survey that will pay you money.
Why Survey Sites Do It
The way survey sites work is that they need to get specific opinions from a specific group of people.
This "group" is what survey sites refer to as a demographic.
Market research companies need very specific demographics to answer their surveys because that's how they ensure that the answers are as accurate as possible.
However, this is where it gets a little tricky.
Since there is such a demand for market research and there are so many survey takers that could be invited, they tend to invite more people than they need.
Want More Money?
Pinecone Research, a leading name in online survey panel honesty, absolutely guarantees $3 cash for every survey you complete!
Take advantage of their time limited New Membership drive and register NOW. Join today: 100% free!


That way, the sites are ensuring that they have enough of the specific type of participants they need, even if it means that they have to weed through the not-so-right ones to get them.
The sites do this to be sure that they get all of the information they need from the right people.
Needless to say, too much of the same information isn't helpful to them either so they have to screen a few people out.
Some sites have better processes in place than others.
The best survey sites on the web work hard to make sure that as little people get disqualified as possible.
These sites usually have things like:
Very specific, lengthy profiles for members to fill out
A high-tech algorithm that matches people with the best surveys for them
Compensation in place even when people get disqualified
Personally, these are the types of survey sites I tend to choose over others because I don't like wasting my time qualifying for surveys I think I'll match with, only to be told that I'm not a good fit!
Let's take a look at how the disqualification process works so that it makes more sense.
How It Works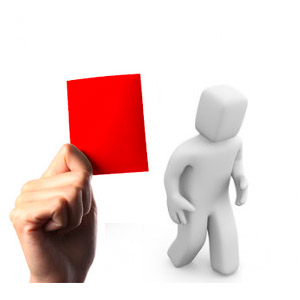 As I mentioned, your demographic information makes all the difference in how many surveys you might qualify for.
On one site, your demographic may get bombarded with survey invites, whereas on another site, you might not be as in-demand.
It really depends on what market research companies that site works with and the type of surveys they tend to pump out.
Some are more business-oriented, while others seek out more "ordinary" everyday people, like moms, students, and 9-to-5ers.
The main reason you may be screened out of your surveys is because of your specific demographic.
Maybe the survey needs to be taken by 100 women between 20 and 30, 100 men between 20 and 30, and 100 women over 30.
The requirements for each survey are different, but they're usually all very specific in what they're looking for.
These spots are filled on a first come first serve basis.
So, if you are a woman between 20 and 30 but you are number 102 you will be screened out. Your demographic has already been filled.
However, the survey can't always tell you that in the beginning because it may need to ask a few questions first to find out your age, location, etc.
Another reason you may be screened out is your speed.
If a survey is supposed to take 30 minutes and you complete it in 3, the site will probably not accept your results.
That's because being too quick is an indicator that you're just flying through the questions to complete them and get paid, rather than taking your time to read through everything and answering honestly.
Being a little faster than average is just fine but being too fast is a red flag.
Surveys generally start with questions about your background to make sure that you are really the person taking it.
These questions should match what you have in your profile, which is why keeping your profile accurate and updated is one of the most important things you can do when you become a member of a site!
If you answer questions about yourself incorrectly, then you will probably be screened out.
Get Money: Cash In!
Join Opinion Outpost, one of the few faithful and honest survey panels and earn cash and gift cards for your opinion. Stack your points and redeem them: Simple! No hidden fees and completely free!
This is another reason you should take your profile seriously and update it regularly.
Advice to Avoid Being Screened Out
Now you know why sites may disqualify you from surveys, so how can you avoid getting disqualified as much as possible?
As an avid survey-taker myself, I've participated in enough of these websites to know how to spend my time efficiently.
That means qualifying for surveys frequently so that I can spend more time answering questions for payment instead of answering them for free!
Here are some tips that will help:
Keep Your Profile Updated
The first thing you need to do to avoid being screened out is to keep your profile updated. Maybe six months ago you didn't like almonds, but now you think about them all day long.
If you answer questions about your interests with answers the survey sites aren't expecting it never ends well.
That's one of the quickest things that will eliminate you from being able to answer the full set of questions for cash.
When you first join a survey site, you'll be asked to fill out your profile.
In addition to filling out your basic personal questions, you should also take some time to take profile surveys and answer any more in-depth questions the company asks you.
This will help narrow you into a very specific demographic that can make it easier for the site to pre-screen you for surveys that are a good fit.
That means less time getting disqualified because your interests or habits don't coincide with that the market research company needs!
Be sure to keep your personal profile up to date and as accurate as possible. Be consistent with the way you answer questions about yourself in your profile and through the qualification process.
Be a Quick Responder
All surveys will have a limit as to how many people can take them.
The number just depends on the company providing the survey, but respondent numbers are usually in the 50 to 200 range.
Once a survey is filled, you won't be able to take it.
On very popular sites – especially if they don't send out surveys very often – the questionnaires get filled up quickly.
I'm talking within minutes sometimes!
I'm not telling you to stay glued to your email inbox waiting for new invites to come in.
However, if one came about an hour ago and you have some free time to take it now, I suggest taking it instead of putting it off until later. Chances are, it won't be available when you come back.
The quicker you are, the likelier you are to have a chance to grab a spot for your demographic in that survey.
Make sure your invites are going to your inbox rather than your spam folder, so you're always on top of new surveys that you might qualify for.
You can do this by checking with your email provider to learn how to whitelist the email address that sends the invites.
Read Questions Thoroughly
Another thing you absolutely have to do is pay attention to the questions.
Occasionally, the sites will have trick questions to see if you are paying attention or just rushing through.
A common trick question is one that tells you specifically which answer to give such as A, D, E, etc.
If you don't give the right answer, the survey automatically knows you're not reading the question and – guess what? – you'll be out of the running for the cash that comes along with it as quick as it took you to answer the question the wrong way.
Do your best to answer each question accurately and fully.
Don't Rush!
You should also try to avoid rushing through the questions.
If you complete the survey too fast, that is a bad thing. It's an immediate flag that you're not paying attention to the questions, so your answers are probably not as accurate as they should be.
Surveys rely on accurate answers to give the market research companies the information they need.
The sites want you to take your time, and they know how long each one should take.
Please be aware that they do keep an eye on this. Put a little thought into your answers, and you'll do fine.
If there are pictures or videos in the survey, be sure to wait until they load fully and take your time to look at or watch them so that you can answer the follow-up questions correctly.
Stick to Short Surveys
Short surveys tend to pay less than longer ones, but they're usually easier to qualify for too.
And, they typically have fewer qualifying questions than long surveys.
The ideal survey length to look for is about 10-15 minutes if you want the best chance at qualifying, or at least not spending a long time answering questions only to get screened out.
Short surveys can make your time more efficient, too, because you'll spend less time taking surveys and can bump up your cash balance a little faster.
Be Honest with EVERY Question
Honesty is key in the world of online surveys.
Remember that each site will match your responses to the information you gave in your profile and profile questionnaires to make sure you're telling the truth.
As soon as you fib, the technology behind the questions will catch it, and you'll get disqualified.
There's no reason to be nervous about your answers to questions because they're kept confidential unless the site specifically tells you that your identity won't be anonymous.
In that case, you'll have the choice to opt-out of the survey.
Otherwise, only your answers will go to the market research companies along with your demographic, but a legitimate site will never send along your personal information too without your consent.
Is It Ever Okay to Fib a Little?
It might be tempting to stretch the truth on your qualifying questions so that you can take a survey and get paid.
Sometimes, you can tell what type of people a survey is looking for based on the questions they ask.
For example, the qualifiers might start asking about your interest in starting a business.
Should you lie and say that you plan to start one in the next few months, or be honest and say that you have no plans of starting one even if it means you'll get disqualified?
I know it's tempting to get more cash in your account, but it's not worth it to lie.
First of all, you will continue onto a survey that doesn't match your interests at all.
You won't have fun with it, and you'll be doing a disservice to the company that's paying you for your time.
Also, if you're caught fibbing on surveys, you're a shoe-in for membership cancellation, meaning that you'll no longer be eligible to take any surveys on that site.
If that happens, you'll even lose the rewards you've racked up.
So, no, it's never worth it to lie on your qualifying questions.
Is There Any Way to Get Paid Even If I Am Disqualified?
Yes!
But it depends on the sites you participate in.
Some sites do give participants a little bit of cash – usually about $0.05 to $0.25 – just for taking the time to qualify even if they don't make it through to the full survey.
These are the sites I love to work with because I know they truly value my time.
I've spent 15 minutes trying to qualify for a survey that I never qualified for and got paid nothing for that time, so I'm now very choosy in the sites I use and make sure they at least give me something for answering their questions.
Others may not pay cash, but they'll still put you into a drawing for cash or other prizes when you get disqualified, which is still better than nothing!
What are the Best Survey Sites to Use to Avoid Getting Screened Out?
I thought it would be a good idea to name a few of my favorite websites that still pay each time you get disqualified.
They also have relatively good pre-screening processes that can reduce the time you spend qualifying.
They may not pay a lot, but it's better than getting nothing at all!
Harris Poll Online is a site I've been a member of for years now, and it continues to be one of my favorites.
Not only do I not get disqualified constantly here (the site has a great pre-screening process), but if I do, I still get 15 points in my account just for taking the time to try.
The qualification process is usually pretty short, too. I don't spend more than five minutes most of the time seeing if I'll make it to the survey.
Read more: Harris Poll Online Review: Does it Get the Job Done?
Global Test Market is one of the best sites for people concerned about not qualifying.
The site does have its share of disqualified participants, but they still get points in their account when they get screened out.
The points you get typically varies depending on how long the qualification process was, but you're guaranteed to get at least a few points.
Read more: Global Test Market Review: Great Idea or Beware?
Pinecone Research doesn't pay for disqualifications, but there's a reason I put it in this list:
Because it rarely disqualifies people from surveys!
Pinecone Research has been one of the top survey sites for years now.
Not only is it one of the highest-paying, but it also has one of the best processes for pre-screening people to take its surveys.
Since it does a great job pre-screening on its own, there's a good chance that you'll be eligible for just about every survey you get invited to.
Read more: Pinecone Research Review: Why It's the Best, or Is It?
Consumer Village is another site that has an excellent targeting process to help you avoid getting disqualified.
In fact, most surveys you'll get invites for are ones that you'll qualify for when you answer questions honestly, accurately, and take your time doing so.
Be sure to fill out your profile completely when you join, so the site will have the most accurate, up-to-date information about you to match you with the best surveys.
Read more: Consumer Village Review: A Great Company To Work With?
Conclusion
Getting screened out can be a major pain in the neck.
Sometimes you can't avoid it, like when your demographic has been filled. Other times you have a little more control, such as when you are answering questions about yourself.
Just remember to be consistent with the information you provide about yourself, take your time, and pay attention to the questions.
If you do those three things, you will avoid being screened out as much as possible.
And, of course, keep your profile information updated!
Check in with each site you participate in every few months just to be sure everything is accurate.
That way, when you go to qualify, you're not getting disqualified because you're answering something correctly now, but it doesn't match with the information you have in your profile from a year ago.
Good luck!
Similar Posts:
Get Money: Cash In!
Renowned Swagbucks delivers what you need: More rewards, more money! Watch videos, take surveys, shop and more to earn Extra Cash. 100% free to join!