Need Easy Extra $250+/Month For Free?
It's almost impossible to find jobs that pay 50 dollars an hour unless you've spent years at your job, made it to upper management, or have a very technical college degree.
But what if I told you that you could make $50 in less than an hour from taking surveys?
You'd probably think I was crazy.
However, this is a legitimate opportunity, and it's known as MindSwarms, an innovative survey site that lets you make $50 for each one of its surveys you take!
If you're already taking surveys for cash, then you won't want to pass up this opportunity to maximize your earnings and make extra money in your spare time.
"Earn Big Money" Surveys are Real, Thanks to MindSwarms!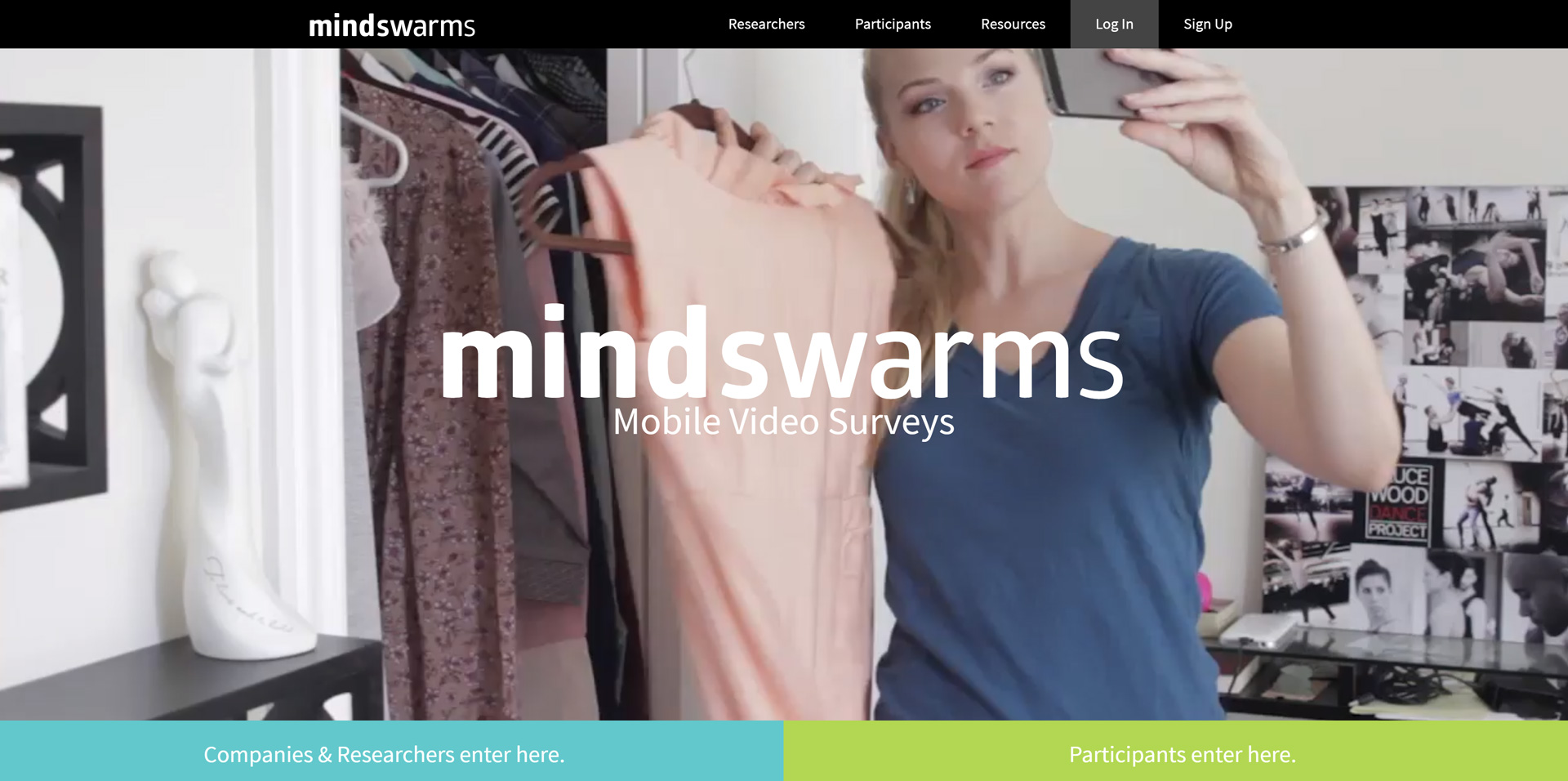 MindSwarms is a new-ish survey site that is much different than other survey panels you might be a part of.
That's because this one focuses solely on video surveys.
If you're not big on being on camera, then this may not be the best choice for you.
But the $50 per survey reward might be enough to convince you to at least give it a try!
MindSwarms has the same purpose as other survey sites: To get participants to answer specific questions that help its clients learn more about their likes, dislikes, habits, etc. for market research.
But that's about where the similarities stop.
MindSwarms surveys are shorter than most others, pay more, and can be done using your phone or tablet's video function.
Let's go in-depth with this company, so you can decide if it's something you want to delve into or not.
Is MindSwarms a Scam or a Legitimate Survey Site?
MindSwarms is legit, although a lot of people still don't know about it.
It hasn't been on the web for as long as some of the more well-known panels, like Ipsos i-Say and Harris Poll Online, which is probably why it's not as talked about yet.
But I've spent time researching MindSwarms and using it myself, so I can say from experience that it does what it's supposed to: Pay its members for their time!
MindSwarms has been around since 2014, so it's not technically new, but it took some time to gain traction.
It's a market research company that works with clients all over the world to provide insights for their products, services, and ideas from real people like you who might use their products.
The company is real, and you can find out plenty of information about what it does for clients and for panel participants on its website.
Want More Money?
Pinecone Research, a leading name in online survey panel honesty, absolutely guarantees $3 cash for every survey you complete!
Take advantage of their time limited New Membership drive and register NOW. Join today: 100% free!


Who Can Join MindSwarms?
Like all other survey panels, MindSwarms has some restrictions as to who can join.
This is basically to keep the panel participants safe and to make sure the company is following legalities.
Participants can come from all over the world because MindSwarms also works with clients all over the world.
Therefore, a company based in Switzerland may want Switzerland residents to answer its survey questions.
Location doesn't matter to join, but people in countries other than the United States, Canada, and the United Kingdom may not get as many opportunities.
This is common with a lot of survey sites, as most global companies like to target those countries in their research.
Still, feel free to join from anywhere because you never know when an opportunity might come your way.
It is a benefit to know English, though, since most surveys will be given in English and the website instructions are only in English (app instructions are English and Spanish).
The only drawback is that all participants need a PayPal account, which can further limit you if you live in a country that PayPal doesn't work with.
PayPal is currently the only form of payment from MindSwarms, so this isn't a step you can skip if you want to get paid.
As for age, participants can be 13 to 17 years old (if applicable in their country) as long as they have parental permission. Otherwise, it's 18 years and up.
Technical Requirements
There are some important technical requirements you'll need to meet, too, since MindSwarms is all about video surveys.
Outdated technology isn't going to work well for this panel because surveyors will need to be able to see and hear you clearly when you're on camera.
MindSwarms requires the following of its participants:
An updated, common web browser (like Mozilla Firefox or Google Chrome)
The latest Adobe software suite (you can download it for free from Adobe's site!)
Working microphone and speakers
Webcam that can record in 640×480 resolution
High-speed internet connection
If using the app instead of website, you'll need an iOS device that's recent enough to download, install, and use the app
Working PayPal account
How Does MindSwarms Work?
After you sign up for MindSwarms (I'll help you out with that a little further down!), you'll need to fill out your profile.
It will ask you the same type of questions other panels do, like information about where you work or go to school, your household, shopping habits, likes and dislikes, hobbies, etc.
This information is crucial for you to fill out because it helps stick you in a demographic, which is how you'll get picked for opportunities down the road.
After finishing all that up, you'll see survey opportunities available to you in your dashboard.
You can choose any that look interesting to you and try to qualify for them.
If you make it through the qualification process and get picked, MindSwarms will notify you of when to start the survey and any instructions you'll need along the way.
Then it's time to record yourself!
MindSwarms surveys are anywhere from 1 to 7 questions long – seriously, that's it!
They could be on various subjects, from talking about the clothes in your closet to your most recent grocery purchase.
It just depends on what client the survey is for and what they want to know to help improve their company.
Instead of answering multiple-choice questions like most surveys have you do, you'll be talking into your phone's camera or webcam to answer the questions.
Get Money: Cash In!
Join Opinion Outpost, one of the few faithful and honest survey panels and earn cash and gift cards for your opinion. Stack your points and redeem them: Simple! No hidden fees and completely free!
In most cases, a full survey of 7 questions won't take any longer than 20 to 30 minutes.
Within 48 hours, you should expect your payment in your PayPal account!
How to Complete MindSwarms Surveys Correctly
MindSwarms studies are innovative and fun, but you won't make the most of your time if you don't complete them correctly.
There are strict instructions you'll need to follow when you record yourself to make sure your video comes out clearly and that you answer the questions the way the client needs you to.
The following information will help you do it all correctly so that you can get paid for your time!
Qualifying for a Study
Before making it to a full study, every participant will first need to qualify for that study.
This is so that MindSwarms can make sure that it has the best pool of participants possible for the survey.
You might be tempted to rush through answering these questions so that you can take the full survey, but that's not the way to do it.
You need to be completely honest here.
If you rush through the questions, you'll likely get disqualified for not taking your time.
And if you lie, it won't be difficult to see that you lied when you move onto the full survey and can't answer questions properly.
That could get you disqualified and unable to collect payment at all!
Read through the questions and be honest. Qualification studies are usually only a few questions, and they're worth spending time on to make it to the $50 study.
Make Sure You're Tech-Ready
If you do make it to the actual study, you need to make sure all your tech is ready to go.
Do a practice video with your webcam or smartphone to make sure everything looks and sounds clear.
Double-check your internet connection and make sure you have all the latest software updates for your browser and Adobe.
Answering Study Questions
When you find out that you've been accepted to a study, make sure you get to it quickly!
Each one has a limited number of participants that can take it and spots fill up fast once everyone's notified.
Be sure to read instructions before starting because they'll let you know the type of answers the surveyors are looking for.
When you talk to the camera, be sure to talk just like you would to your friend.
There's no reason to act like anyone other than yourself!
Speak clearly and make eye contact with the camera.
Make sure there's no background noise that could disrupt the audio quality of your recording (and no people or animals in the background of the video!).
You should also dress casually, let your real emotions show, and answer the questions thoroughly without derailing off-topic.
Pay attention to your body and facial language, as these will also be considered when qualifying your responses.
You'll have time to read each question and think about your response before giving it.
Take your time reading the question and formulating your response before you press the Record button. Most questions require at least 45 seconds for a response.
Move onto the next question by hitting 'Next Question' and continue until you've responded to each of them.
MindSwarms Payments
As I mentioned, MindSwarms pays only with PayPal, which is great for people who want quick cash but not so great for people in countries where PayPal doesn't work.
After you complete a study, the team will review your responses to make sure you followed directions and gave appropriate answers.
If there's an issue with your audio or video, you might be asked to re-record the problem areas.
If everything checks out, you should get your payment within 48 hours, but most people see their payments the next day.
For a full survey of 7 questions, the payment is $50.
Some surveys will only have 1 to 3 questions, in which case you'll get paid $10 per question you answer.
Ready to Sign Up for MindSwarms?
You can sign up for MindSwarms on its website or on your iOS device!
Sign Up on the Website
Go to the MindSwarms website and click the Sign-Up link at the top.
The site will send you an email confirming that it's really you.
You'll then need to fill out your profile and basic information.
Then, browse your dashboard for available opportunities!
Sign Up on Your iOS Device
MindSwarms used to have an Android app, too, but it now currently supports only iOS devices.
Find and download the MindSwarms app to your iOS device.
Once installed, you can click the app and press the Sign Up Free button.
You'll be asked for all your basic information here, too. Fill that out, and you're ready to go!
Conclusion: How to Get Paid 50 Dollars Per Survey with MindSwarms
MindSwarms offers a unique opportunity for survey-takers to make a lot of money in a short amount of time.
You likely won't get a lot of opportunities through MindSwarms, but even one or two a month gives you an extra $50 to $100 in your pocket for less than an hour of your time!
I know video surveys aren't for everyone, though, so if you're looking for the best regular survey sites, try out SurveyJunkie (review) and SwagBucks (review), two of my go-tos for extra monthly cash.
Similar Posts:
Get Money: Cash In!
Renowned Swagbucks delivers what you need: More rewards, more money! Watch videos, take surveys, shop and more to earn Extra Cash. 100% free to join!